Enterprise Applications & Middleware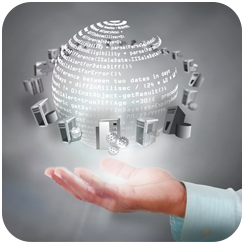 Most companies implement a variety of software applications to support finance, manufacturing, supply chain, human resources and other mission-critical operations. Often built to meet specific business needs, these proprietary programs typically operate on different platforms, with no interaction between systems. With the growing importance of data management and collaboration, sharing and transferring information between unrelated programs becomes a redundant and time-consuming task, not to mention unsecured.
Through enterprise application integration, Questa Technology can interface applications in sharing data and business processes from an easy-to-use, single point of access that streamlines workflows and connects the enterprise together. Using the IBM WebSphere technologies, we seamlessly integrate diverse technologies and hardware that enable data interchange among applications for a fully integrated enterprise system. Advanced enterprise applications also support interactions with customers, business partners and third party resources for a truly collaborative business process. We can even take your enterprise applications to the cloud.
Taking a systematic approach that considers your user interfaces and business requirements, our information system specialists offer comprehensive services for developing, deploying, maintaining and supporting an enterprise application that can be utilized across platforms and applications from the front to the back office.
Websphere

Questa Technology utilizes the IBM® WebSphere® application server to optimize, create and connect applications across multiple computing platforms on-premise or in the cloud. WebSphere offers a flexible and secure Java server runtime environment for enterprise applications, with a single administrative console for Java and Node.js apps and APIs. Using WebSphere, we can support large-scale and mission-critical application deployments with continuous availability and Intelligent Management capabilities.